40th Anniversary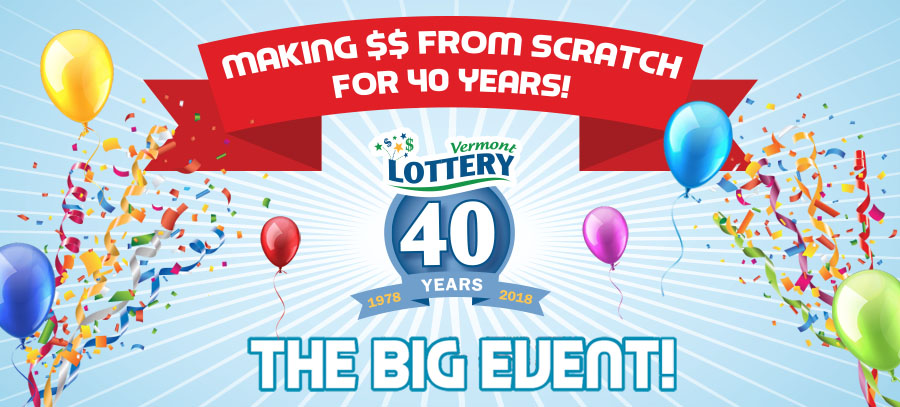 The Vermont Lottery is turning the BIG four-O on February 14, 2018! To celebrate this milestone, we will hold promotions throughout the next 10 months leading up to The Big Event!
What is The Big Event?
The Vermont Lottery is celebrating its 40th anniversary by hosting an invite-only "Big Event" to be held the evening of Friday, June 1, 2018 at the Champlain Valley Expo Center located at the Champlain Valley Fairgrounds in Essex Junction, Vermont. Doors open at 4:00 pm. Attending the Big Event is by invitation only. Invitees can look forward to giveaways, entertainment, the Cash-N-Ator, games, and a chance to win exciting prizes. Over $500,000 in cash and merchandise to be given away! Stay tuned for more details on the Big Event.
How Do You Get an Invitation?
Purchase any of our 40th Anniversary instant tickets at the $1, $2, $5 and $10 price points.
Enter your non-winning 40th Anniversary instant tickets into 2nd Chance. For each valid ticket entered, you will receive one (1) entry into a drawing for a chance to win an invitation to the Big Event.
After entering a ticket into 2nd Chance, you will have the opportunity to play one of four (4) interactive online games to win either additional entries into a drawing for a chance to win an invitation or a 40th Anniversary Cash coupon.
Drawings for invitations to the Big Event will be held on: 10/06/2017, 01/05/2018, 04/06/2018
* All non-winning entries will be removed after each draw.
150 lucky players from each draw will win an invitation for themselves and a guest to attend the Big Event. Only those names drawn will be eligible to win the cash and prizes given away at the Big Event (not including door prizes.)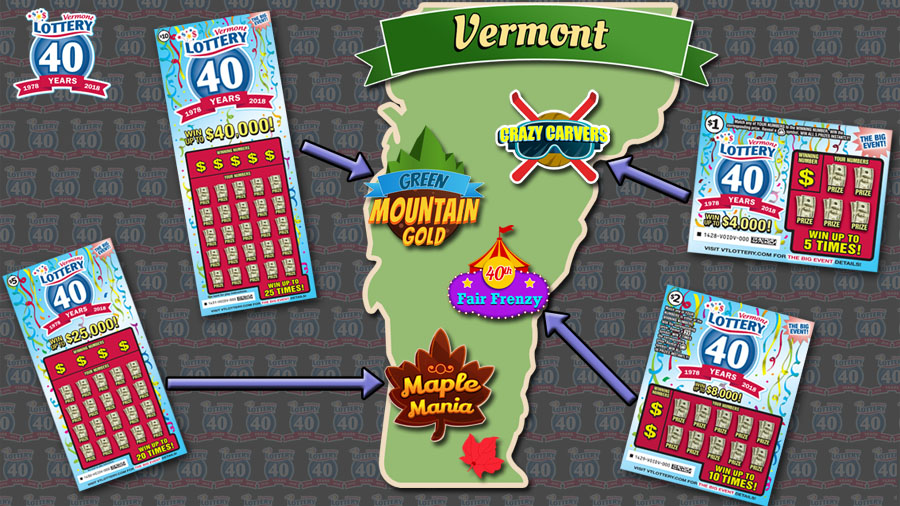 Coupons - What You Need To Know
You will have a chance to win 40th Anniversary Cash coupons ($5, $10 or $40) while playing interactive online games through our 2nd Chance site. Coupons will be sent via email and may also be accessed through your Entry History.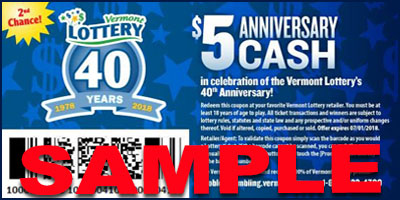 To redeem a coupon:
Print the email containing the coupon and present it to any Vermont Lottery retailer. You must be 18 years of age or older to redeem coupons.
No printer? Write down the 30-digit coupon number found directly under the barcode, bring it to any Vermont Lottery retailer, and let them know you have a promo coupon to redeem. They will need to manually enter the coupon number to validate it for you.
What Else is Happening?
Draw game and Fast Play promotions
Subscription promotion
The above will all be themed to support our 40th Anniversary. This page will be updated regarding each promotion as it becomes available so check back often!